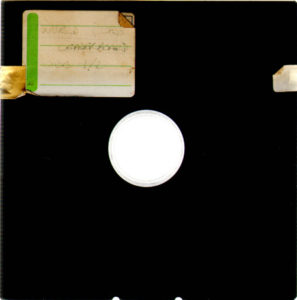 My first job in marketing was at a word-processing software company in Madison. The company was too small, and my boss was too busy to allow me much time for training wheels. I was immediately thrown into day-to-day marketing operations. But even as a rookie, I was quickly able to spot areas where the lack of systems and processes were hurting us, and I was able to make a difference. This is the story of the second time I optimized a print workflow.
One of the first projects I worked on was a product sell sheet that was already in the works. The piece came back from our print shop in galley form, ready for review. We passed it around and corrected the typos and errors from the typesetting process.
While we were proofing, I started thinking about how inefficient it was for a marketing department at a word-processing software company to key in brochure copy, print it out and hand a piece of paper to a print shop to be re-typed. This was 1986 after all. Surely there was a way to pass our scintillating copy electronically, right? Right?
But.. this was 1986 after all. No Internet, no email, no flash drives, no DropBox, no AirDrop. Our electronic world was contained on 5-1/4″ floppy disks. Ours was a small, floppy, disconnected world.
The owner of the print shop we used was a mentor to me. He taught me all about print production, ink on paper, line screens, dot values, trapping, paper stocks, halftones, table stripping, and typesetting. Every time I walked in the door, he'd make me recite our corporate Pantone colors and typeface.* I was an eager student, and I was given the run of the shop. One of the first people I got to know was the typesetter.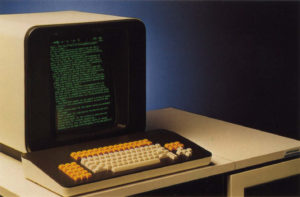 His name was Roger, and he looked like a guy who'd spent his whole life in a print shop. Roger chain-smoked Marlboro Reds at his desk (you could do that back then) and looked like he hadn't seen the sun in many years. But he sure knew his way around a VariTyper machine. I watched him work and asked a lot of questions, and before long I got the hang of how he set type. At the beginning of each file, he inserted a bunch of embedded commands to set up default column width, font, spacing, etc. Then he used control characters to set up character styles like bold and italic inline. On his screen, it looked a lot like WordStar did back in the days when what you saw was definitely not what you got. (For you young'uns, think raw HTML.)
I went back to the office with a copy of Roger's control codes, and then schmoozed our programmers about how to insert "high ASCII" into one of our word processor's documents. The next time we did a piece for print, I opened the file with the approved copy, embedded the proper VariTyper typesetting codes, saved the whole thing out as a text file, and strutted off to my print shop to change the world.
Cue the sad trombone.
I knew Roger's VariTyper had floppy disk drives, but I hadn't looked at them up-close. Now, it became embarrassingly apparent that the VariTyper used 8″ floppy disks to load fonts and data files. My modern world of 1986 was standardized on 5-1/4″ floppy disks, and it had never occurred to me that the state of 1970s typesetting art was 8″ floppys.
We went back to re-keying from paper.
A month or two later, and I got a phone call from Roger. Now Roger was a great person and a crack typesetter, but he was mostly kept out of sight of clients – likely by mutual agreement with the sales department. But I had become the ersatz mascot of the production department, so he was comfortable phoning me up. He told me he'd schmoozed his VariTyper sales rep out of a 5-1/4″ floppy drive – one of only about five in North America.** He had it hooked up for the next time we wanted to try it.
At that moment, we were evaluating designs for a re-do of our entire literature kit, so the opportunity to test our new electronic workflow came quickly. It took a couple of trial runs to get all the control codes right, and then we were able to eliminate the proof-reading step from a major series of print collateral and packaging re-designs. It shortened our turnaround time by two or three days for each piece, and allowed us to focus on other things during a complex process.
This may sound hokey from the vantage point of 2015, but we were the only company doing this in Madison at the time. I even wrote a how-to guide for the print shop to hand out to other customers, although I'm not sure it got put to use. Personal computers were still a new thing, and most people in marketing didn't have enough experience with technology to pull this off… yet.
In a couple of years' time, the landscape was completely different. I was at another software company in California, when the "desktop publishing" revolution happened and the entire printing industry went digital. One of the software manuals I produced was the first in the state of California to go straight from digital files to film as 16-page imposed signatures. It wasn't long before we were going direct to plates with no film. But those are stories for another time.
Speaking of stories, if you've made it this far, perhaps you'd like to read about the first time I optimized a print workflow.
* PMS 323 and PMS 195, an utterly 80s color scheme. All the company's literature was set in New Baskerville.
** Okay, I totally made that last part up.
Floppy disk photo by Museum of Hartlepool