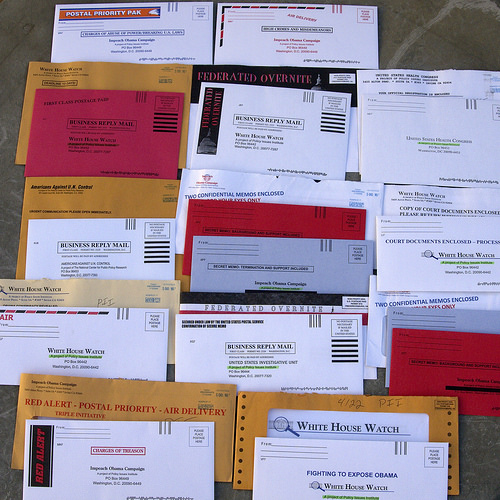 I've spent my entire professional life in marketing, but one thing I cannot get used to is the ridiculous amount of waste built into direct marketing and catalog marketing. I mostly worked with small companies, and we didn't have the luxury of mailing 1,000,000 pieces knowing 985,000 of them would end up as landfill. Same with catalogs – as a business owner, I will suddenly find myself on some weird lab supply list or office furniture list that delivers me 300-page catalogs. Every month.
(As you might guess from these statements, I am a huge proponent of e-commerce and email marketing. I'm not advocating sending a million emails to get 1.5% return either, but at least no trees are killed if you do it.)
Then there are the phone calls. While not as environmentally unfriendly as junk mail, phone solicitation is its own kind of toxin.
Anyway, because the direct marketing industry is all about opting you in, it takes effort to beat back the relentless onslaught of direct mail and catalogs that come through the mail slot, and the phone calls from people trying to sell you stuff you don't want. Sometimes it's hard to overcome the inertia of just tossing the junk in the recycling bin, or just using Caller ID to screen yet another unwanted call, but I think it's important to make the effort to stop the madness. I give you two reasons:
In the case of direct mail and catalogs, it reduces environmental waste.
In the case of both unwelcome mail and phone calls, it sends a message to the marketers that we are not interested in this kind of sales approach. (This is also known as voting with your wallet.)
There's good news: mechanisms exist to help you opt out. I put in the effort, and it was worth every minute I spent on this little project. Without further ado, here's how I did it…
How to Reduce Your Junk Mail
The Direct Marketing Association has a mechanism for setting up your preference not to receive junk mail. The caveat here is, it's only used by mailers who are DMA members. Fly-by-night operations and local mailers probably aren't members and aren't obligated to check their lists against the DMA preference list. Still, it makes a noticeable difference to opt out. It also takes a while, as mailing lists are bought and sold sometimes months in advance of a mail drop date. But it works. Oh yes, it works.
Direct Marketing Association's DMA Choice
Results: We get a few mail pieces from places we've bought things, and some local stuff. Still, our volume is down by a good 85%.
How to Stop Those Catalogs You Don't Want
Most catalogs include a printed phone number or URL for opting out. Sometimes it's hard to find. If you're getting a lot of catalogs, I suggest setting up a Catalog Choice account. I started using Catalog Choice in 2007, and I've gotten us off over 90 catalog lists since then. That's a lot of trees. It's great to have a one-stop shop for opting out – just log into Catalog Choice, find the catalog marketer you want to stop, and Catalog Choice does the heavy lifting.
Results: We get zero catalogs we don't want. None.
There's a caveat here: if you've bought something from a catalog retailer, they may dodge your request by claiming their catalogs are not unsolicited because you're a customer. Still, most marketers comply, even if you're a customer. I always – always – tell Catalog Choice to let the marketer know I prefer to shop online.
How to Put an End to the Relentless Credit Card Offers
This is a newer initiative. The Federal Trade Commission has worked with the big credit score agencies to let us opt out of receiving pre-approved credit card offers. I first did this several years ago when we got frequent flier accounts for our kids and they immediately started receiving credit card solicitations – at ages 4 and 8! The airline card offers started up again recently, so I put our names through. Again.
Results: The first time I did this, credit card offers dropped to zero. But the effects wore off over time; I just put us through a second time.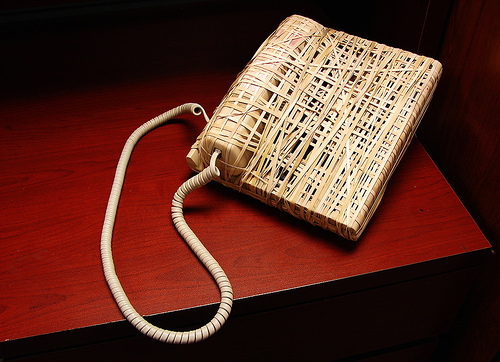 How to Get on Telephone Do Not Call Lists
Both the Wisconsin and National lists are now permanent. Used to be, you had to re-submit every two years. Caveats here – overseas and some fly-by-night operations in the U.S. do not care if you're on these lists. I still get 3-10 spam calls a day on my cell phone, even though it's illegal. If they're trying to scam you, they're not concerned about breaking other laws.
(This is why my phone number is not published anywhere on this web site any more. Sorry about that.)
Wisconsin Do Not Call Registry
[Google your state and "do not call registry"
to find out about your local program.]
Results: Effective, especially at first. But not as good as direct mail and catalogs. Phone solicitors seem to be a lot less scrupulous than mailers.
I put our land line (yeah, we still have one) plus three cell phones on both the national and state registries. Keep in mind there are some types of calls that are not restricted by the Do Not Call lists:
Calls from political organizations
Calls not-for-profit organizations
Calls from organiztions conducting surveys.
Calls from companies from which you have purchased something with the last 18 months
Conclusion
It takes a little while to get all this done, but a half hour now saves a lot of annoyance and tree death down the line. It's really noticeable in the mailbox: after I got us on the DMA list, Catalog Choice and the Opt Out Prescreen for credit card offers, some days we don't get any mail at all. Ahhhhh.
Feel free to forward this post to others who might be interested in reducing spam calls and junk mail. The more of us who opt out, the louder our message will be heard by direct marketers: cut it out.
Junk mail photo by Judith E. Bell

Phone photo by Furryscaly