This past weekend, my spouse scrounged some shelving units from a fellow grad student, hoping she could put them to use in her study. She has an ever-growing collection of three-ring binders pertaining to her research, and, hey, free shelves are free shelves! She set them up, and came to find me with exciting news: the shelving units fit perfectly into an odd-sized nook in her study! Our past attempts to put that nook to practical use had been foiled. It was very satisfying to receive something unexpected and immediately find a spot for it that solved a problem.
This started a discussion of why it's so exciting and satisfying when we find something in one place that perfectly fits in another. I told my spouse that when I was a little boy, I used to wonder that all the time: why didn't the big pieces of Lego fit in the shoe box? Why could I fit all my marbles – except one – in the cool little gunny sack my grandma gave me? And I was a skinny kid, so none of my clothes ever really fit.
I wished for some magical, standard unit of all things, so any item would fit in any box, any time you tried.
I told my spouse I remembered the one time when the magic worked. I had six small semi trucks, each with a different freight or moving company's logo on them. The box for the trucks was long gone, but I wanted a place to keep them together. I asked my mom, and she went to the kitchen, pulled a candy box from the cupboard, took out the last few candies and all the empty wrappers and handed it over.
It was a perfect fit.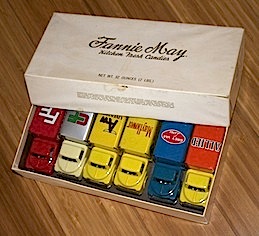 My little metal trucks fit in the candy box, side-by-side, with just enough room left over so you could get your fingers around one and pull it out. Wow! I'd finally found something that obeyed the Magical, Standard Unit of All Things! It was so satisfying that I protected that box with everything I had. No big brothers with big feet or friends with no appreciation of the Magical, Standard Unit of All Things were going to squish my perfect box.
At this point in the telling of my story, I left Laura and dashed upstairs to get the box. Yes, nearly forty years later, I still have it. (Fortunately, after twenty-odd years together, Laura doesn't think this kind of thing is weird any more.)
One Size Does Not Fit All
Why is it so satisfying when something fits perfectly? And so rare? Because we are not all the same size. Our shoe boxes for Lego are not the same size. And our home-office nooks for bookshelves are not the same size. So when something fits, it feels as though it's custom made for us. And that feels good.
Software too. Years ago, I found myself at a conference table with one of the founders of WordPerfect. (At the time, WordPerfect was the word processing app with the biggest market share in the world.) We were talking about feature bloat, and this gentleman said, "The average WordPerfect user takes advantage of about ten percent of the program's features. But it's a different ten percent for each user." At the time, I thought it was a frightening proposition to try and maintain a product that people bought in order to use ten percent of. I still think that's true, although WordPerfect is an extreme example of one-size-fits-all software products.
The trade-off, of course, is cost. Mass-producing software (or anything else) results in a lower price. The cost of development, programming and testing is amortized over thousands of customers. Custom software (or anything else) is more expensive, because the entire cost of building it falls to you. While it makes little sense to hire me (or anyone else) to build you fully-customized word processor, there are other areas of your business where it does make sense.
You can buy an off-the-shelf app for digital asset management and hope that the one you select somehow has The Magical, Standard Unit of All Things, and it's perfect for you. You can try a shrink-wrapped project management software product, but it's probably not going to fit very well. Or you can build a custom app to do these things that fits your workflow perfectly. Without wishing for The Magical, Standard Unit of All Things to visit you.
Sure it'll cost more up-front. But if a custom app helps you to be more productive – and reduces resource usage – then it'll pay for itself pretty quickly. But "return on investment" is a topic for another day.