Every time I see an article like this one, I am reminded of how upside-down our thinking has become on job creation. Here's Keynesian economics in plain sight again when layoffs occur. Why don't we give credit to the same principles when we talk about hiring?
Why These 5 Companies Are Laying Off Thousands of Workers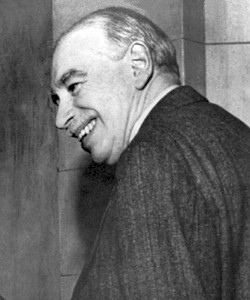 It's sad when companies lay off employees, but that's just a reality of businesses, of ups and downs. Look at Halliburton: because oil prices have dropped so low that no one's doing oil exploration, demand for their services are down. Or AmEx, which chalks their layoffs up to "a stronger dollar, a weak December for retail sales and the sharp drop in gas prices."
So here's what's upside down. The economics of layoffs are obvious – demand is down, so a company doesn't need as many workers. Plain as the nose on your face, right? Let's turn that around and look at why companies hire. We seem to have forgotten that companies hire workers for the same reason, inverted. When demand is up, hiring happens. Maybe this is less visible because hiring usually ramps up slowly and less noticeably than mass layoffs.
It's interesting how no company ever mentions "our taxes are too high" as a reason for laying people off, but we've bought into a fantasy that lowering taxes creates jobs. It doesn't. Let's be honest here – if we own a business and we're meeting capacity at current staffing, what is our incentive to hire if our taxes are lowered? Zero. Why hire more people who would not be productive. Our incentive is to extract the extra money as profits.
The demand-based economic principles of John Maynard Keynes are still true for both hiring and firing, even if we've forgotten half of it. It's time to remember that we are the job creators. When we spend our money in the economy, we create demand for goods and services. Our spending is the income of others, and vice versa.