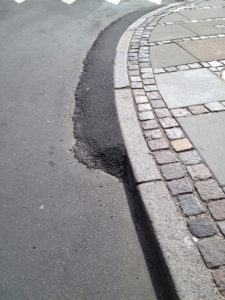 Back in the 1980s, I worked at the Trace Research and Development Center at UW-Madison. Trace is a pioneer organization in the field of technology and disability. Personal computers were a pretty new thing then, and we were using pre-Internet capabilities (telephones and rudimentary databases) to compile tech resources for disabled people.
My experience at Trace as a college kid had a profound impact on my awareness of and sensitivity to issues surrounding disability. My tenure at Trace was before the passing of the Americans with Disabilities Act, and accommodation of disability was pretty basic back then. My hat's off to Trace for seeing how important technology was going to become for all of us, and for continuing to press for inclusiveness for 30+ years.
When the Internet first happened (anyone remember Gopher?), it was all text-based. I thought it was a boon for disabled people and how they might access information. But then some other things happened that actually made the web harder to use if one was physically disabled or visually impaired. (Seriously, are some of you still using Flash on your websites? Cut it out!)
Accessibility is Back
Fortunately, the pendulum has swung back. Our efforts to make websites mobile-friendly have created opportunities to include standards for accessibility as well. And yes, there are standards for website accessibility. You can – and should – read them on W3C's website.
Accessible Websites Enhance SEO
Adherence to W3C's accessibility guidelines is good for your SEO. The simple act of ensuring your website is accessible, by doing things like
using alt tags
providing transcripts of video
using link text
writing descriptive page titles
providing a sitemap
…will also enhance your pages' search-ability and SEO rankings. It's the proverbial win-win: developing web content that's more accessible helps your search-engine friendliness. And developing content for better SEO ends up being more accessible.
If you use WordPress, as I do, there are plugins to facilitate accessibility. One of my favorites is the aptly named Genesis Accessible, which works with the Genesis Framework, which I also use extensively.
Back in the days before the ADA, the Trace Center used curb cuts as a metaphor for the benefits of accessibility. When cities began cutting curbs down at street corners to help people in wheelchairs, many thought it was an expensive prospect for the benefit of a small group. But once the curb cuts were in, they began to be used by everyone. They were a boon to kids on bikes, delivery people with hand carts, and pretty much all of us trying to get a grocery cart to a car. Or pushing a stroller down any sidewalk, anywhere.
Think of website accessibility as curb cuts, which can lead to better SEO and more usable sites. It's relatively easy to do, and it has benefits beyond providing better service to disabled people.
PS If you want to read more about my formative years at the Trace Center, check out The First Time I Optimized a Print Workflow
Curb cut photo by kmardahl